Ftv Girls Rachel in Comfy in the Nude
This supercute 19 year old has her very first adult experience with FTV, and besides being shy with public nudity, she seems sexually comfortable with herself and her figure.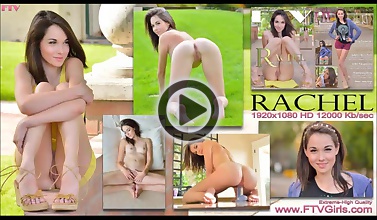 She's 1/4 Japanese, which gives her a slightly exotic look and a super gorgeous face, with a leggy, slender form and fair complexion.
We first see her at a resort, wearing a yellow dress and cute wedges. The dress is short, and we get all sorts of upskirt teases showing off her cute butt and petite private parts. Soon enough, she's teasing herself out in the open, fingering herself, then going and doing naked cartwheels in the grass, and showing off her pretty feet. She's most comfortable in the nude it seems — and we see a lot of her doing her FTV adventures fully naked.
Back home, she masturbates with her fingers to a nice natural orgasm with strong vaginal contractions. Its nice to see a girl who can get off with only her fingers! We get extreme closeups of her private parts, gaping and pulling on her labia.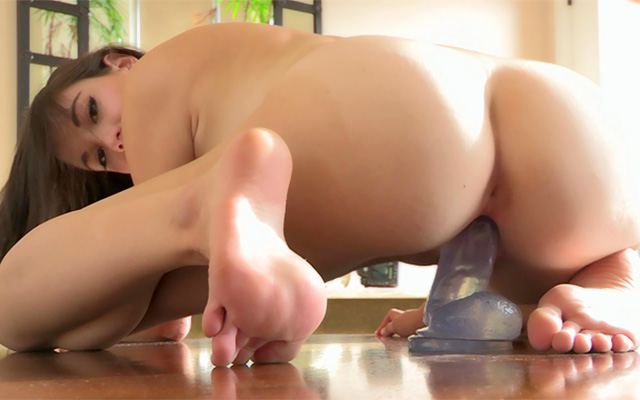 Then in a sweater and no bottoms (just panties) she walks through a street, climbs a fence, and trespasses on some random house! She gets all naked, fingers herself some more, and plays with her labia.
Then pulling out a jelly dildo, she gives it a blowjob, then does a sexy ride on the living room table. Watch her labia wrap around that large toy… she continues to do herself on the couch, then goes back to finger masturbation to another strong orgasm, with such satisfying orgasmic contractions.
We do a lunch break, where she talks a little more about herself while her breasts are out in the open. Visiting a strip mall, wearing causal clothes, she then starts flashing her breasts & butt, and ending up naked and waving to cars as they drive by. This teen loves getting naked!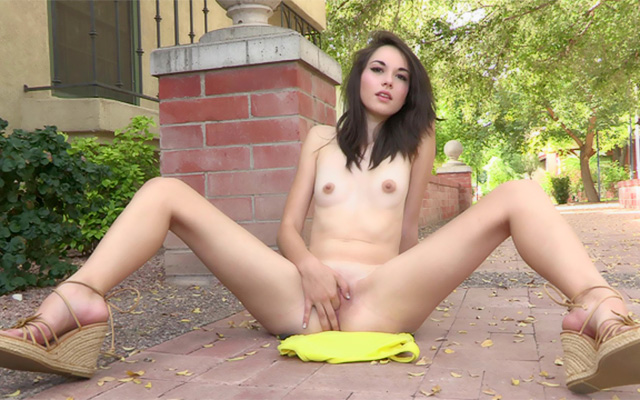 Back home, she gets kinky experimenting with a speculum, opening up her vagina wide, so we can see right to her cervix. Then she pulls out a string of beads, and stuffs them inside her vagina. We then get to enjoy her perky breasts, watching her massage them, then pull on her nipples up close — the perfect kind you want to suck on! To end the day, she dances to some techno music, both clothed an in the nude. Oh, what a cute teen she is, and we're happy to see her start shy, eventually being comfortable with all kinds of FTV fun. Another supercute teen, fresh, no tattoos, perfect for FTV 🙂